Tuesday, March 14, 2006
Cassie's World...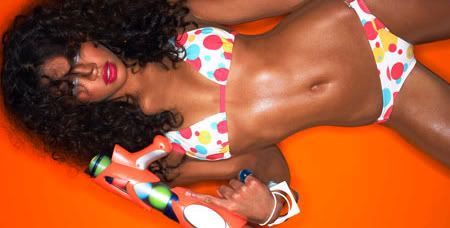 In case you haven't heard, she's taking the MySpace world (which seems to be the entire world now) by storm. Her name's Cassie, and she's apparently the Princess of Ryan Leslie's (think Cheri Dennis, "I Luv You" and major contributer to a lot of Diddy's artists) crew, Next Selection. Her name is Cassie, and you might remember her as the lead girl in Mario's video for "Here I Go Again," and you also may remember her face in Complex Magazine's comic book spread. And if that's not enough, then maybe you'll "respect" the fact that she was the lead girl in Missy Elliott's campaign for her Adidas line. So with all that being said, if you're not already her friend on MySpace, you might wanna go ahead and add her because you don't want to be the only one who's missed the gravy train.

Although there's not much that can be said for Cassie's voice, her stunning looks and killer production gives her an edge. Not to say that Cassie can't sing, but there's nothing too spectacular about this girls voice, but it floats nicely over Next Selection and Ryan Leslie's productions. "Me & You" is slated for Cassie's first single, so make sure you check that one out. Even though I prefer "Just One Night." You be the judge...


Cassie feat. Ryan Leslie - Just One Night - download
Cassie - Me & You - download


For more information on Cassie, check out her MySpace (linked above) and also, log onto cassieworld.com!